Truu
8-minute read
To be successful, a business must know exactly who its target customers are. No business is for everyone. The more specific you can get about your market, the more directly you can speak to your audience. The data shows that buyer personas are incredibly effective. For instance, a recent study showed that persona-based content actually increased customer engagement from 10% to 58% when targeting cold leads.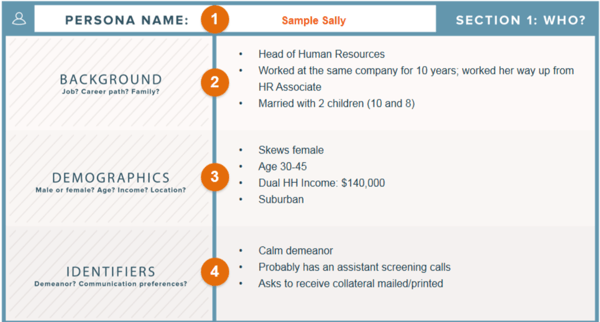 Buyer's personas are a tool used by marketers to understand different customer types. Persona templates are used in marketing, user experience design, and other industries. They typically include demographic and psychographic data, as well as intel about purchasing habits and visual preferences.
When you can nail down specific buyer personas, it's easier to figure out when that person is likely to be considering a purchase. Then, you can market specifically to that person, in that moment on their user journey. To really take it up a notch, buyer personas are a powerful tool for shaping websites and guiding content strategies. When paired with a CRM like HubSpot, buyer personas can help your sales team and marketing team create content that converts.
Here's what you need to know...
Essential Elements of a Buyer's Persona
Let's start with the basic elements that most buyer personas contain. A buyer persona might include the age range, race, gender, income level, and geographic region of your buyer. Your profiles may also include information related to psychographic information, such as the buyers' fears, hopes, anxieties, favorite travel destinations, etc. A buyer persona will also include information about how, when, and why they make purchasing decisions. This could include platform, amount, time of day, number of items, etc.
Depending on the business, some buyer personas choose to include additional elements that enrich the persona. These could include favorite colors, education level, relationship status, and more. It's all about understanding the psychology and purchasing habits of your target customers. Sales agents use buyer personas to make their pitch, and marketers use buyer personas to guide the creation of visual materials and written copy.
Buyer personas are internal documents that are typically developed through focus groups, surveys, and data culled from advertising. Everyone in the team should understand the buyer personas. When you hire a web designer to create a website, share the buyer personas with them, too.
How to Create Personas for Your Unique Business
No matter what you're selling, whether product or service, you need to understand the purchasing habits of your target customers. If you're an omnichannel retailer, your first step should be to ensure that you are examining the behavior of your target group across online and in-person platforms. People can behave very differently depending on where they are.
Now it's time to figure out the general categories of people who purchase from you. If you need a starting place, check out HubSpot's template. You can start by organizing them by the type of product or service they consume. What are the primary types of customers that currently purchase from your business? Are there types of people that you would like to target in the future? Let's say you sell construction equipment and your two major items are tractors and cranes. Take a look at the people who fit into those two categories. (Hint: If you don't have easy access to this data, you might need a better CRM). Are they independent contractors who primarily build houses for locals? Are they mid-size companies that mostly work on small commercial projects? You can see how this information would affect pretty much every marketing decision you make.
Now it's time to construct a more robust picture of your buyers in their daily life. Where do they hang out IRL? Where do they hang out online? Are they likely to spend their evenings at the gym or at the movie theatre? Do they like to peruse Reddit or do they watch YouTube tutorials instead? If you don't know, conduct some interviews.
Create separate documents with the data you're collecting. Most companies give them funny alliterative names for easy referencing, like Contractor Colin or Manager Madhavi.
Optimizing Web Development Based Around Personas
Hooray! You've now created a set of data-informed buyer personas specific to your company. Remember, these can be live documents. Add more information as you continue to study your buyers and observe their habits. Now, it's time to put all that research to good use.
Your website is probably the first place your future customers will encounter your products and services. They might have previously stumbled upon your Instagram account, or maybe they read a news article about your company. Perhaps they even heard about you from a friend, if you're lucky. But these are all early stages in the buyer's journey. Awareness is very important, but it's not the same as consideration. When people are ready to consider a purchase, they'll head to your website to suss out their options.
Work with a web developer to design an interactive website that directly addresses your buyer personas. Reflect to your visitors that you understand them. Talk about their fears and their goals. Preempt their questions by giving them answers. Present the information to them in a format you know they like (videos, images, long-form articles). You might worry that you're getting too specific. Don't hold back! All those jokes about underwater basket-weavers have a basis in reality. When someone has a very unique problem to solve, they want a best-in-class expert to help them with a solution. One study from MarketingSherpa showed that buyer personas resulted in a 171% increase in marketing-generated revenue and a 900% increase in the amount of time visitors spent on the website. Don't be afraid to adhere strictly to your buyer personas.
HubSpot and Personas
HubSpot is a CRM tool, among other things. When it is well integrated with your website, HubSpot collects information about your customers. It organizes that information into categories so that your team can access insights. This might include factoids like the date of most recent purchase, city, total spend, # of visits, how many phone calls they've received from your team, and more.
To create robust buyer personas, your website should definitely integrate with HubSpot. Not only will this CRM continue to collect information about your customers, but it actively provides buyer persona templates for you to use within the dashboard. This allows your salespeople and marketing team to easily reference personas and create content that aligns with their buyer journeys.
Are you sure you're not leaving valuable information on the table? Make sure your business has a website and CRM that work together to provide a constant stream of information to your sales and marketing teams. Buyer personas are a powerful tool that every business should utilize. Inquire about our integrated HubSpot and web development services today.