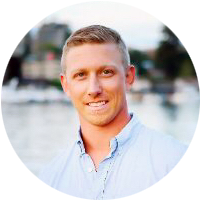 Brandon Baker
8-minute read
If you have ever been through a web design process, then you probably have some exposure to wireframes. Creating wireframes are one of a web designer's most powerful tools. They help make visible all the information and decisions that a web visitor will be faced with on your website. When a user visits your website, they should be able to easily navigate to their desired destination. Wireframes help designers and business owners work together to understand the user journey, mapping out interactions and layout needs for the future website along the way. They also make iterating much easier.
Here's what you need to know about them, and how they will ultimately benefit your business.
What is User Experience Design?
First of all, let's take a moment to position wireframes within the larger field of user experience design, or UX. UX design is focused on creating the absolute best user experience. Mostly, UX designers try to understand the psychology of the user and then create an interactive experience that fits with the user's natural practices. The best UX designers and web developers find a way to meet the client's needs while also delighting them.
A wireframe is a tool that designers and developers use to determine your site's information hierarchy.
But first, you'll need to articulate a clear user journey. If it's in your budget, you should seriously consider doing user testing or at least some interviews with users. There is a difference between your ideal user journey and the actual journey that visitors are taking on your site. For instance, you might imagine that users Google for the service you provide, land at your Services page, go to the About page, then to the Contact page to request a call. In actuality, their journey could look very different. They might arrive via LinkedIn if someone shared a blog post. Once there, they might click off your site to look up your leadership, or a Facebook message could distract them.
Tools like HotJar allow you to capture heatmaps and recordings anonymously, so you can see how real people are using your site. Once you've determined the MVP and the user journey, you and your web designer can proceed with the wireframing process.
A Layman's Guide to Wireframes
A wireframe is the simplest, visual, initial version of your website. It illustrates interactions, layout needs, customer journeys, and determines the site's information hierarchy. Information architects use them to test out navigation paths that web visitors could follow. Wireframes do not use any color, font, or visual design elements, with the exception of layout.
In the wireframing phase, it is expected that the design will undergo various iterations. In fact, that's a major reason why they are used. With basic sketches and minimalistic prototypes, it is easy to see if the fundamental functionality is working or not. They also make it easy to perfect the functionality without being distracted by color, font, or other graphics. Wireframes can be sketches on paper or clickable prototypes on software like Adobe XD or Balsamiq.
A good web developer will prioritize responsive web design from day one. Responsive design means that your website will work across various devices and operating systems. 83% of all users say that a seamless, cross-device experience is important to them. The Truu Digital team does all web development in-house, so you don't have to worry about working with multiple agencies to get the job done.
Wireframes are your opportunity to nail the design. By working with skilled web developers and UX designers, it's possible to build a website quickly while maintaining elite quality.
Benefits of Using Wireframes for Businesses
As a client, you want to save time and money on your web development process without sacrificing quality. Wireframes are fast. They are a great tool for facilitating quick communication and iteration between you and your designer. Rather than frontloading expensive design work that may need to change later, wireframes allow you to cost-effectively figure out your basic website functionality.
Your business benefits from wireframing because it ensures that your most essential business objectives are being met. It's one thing to have a beautifully designed website. But if that site isn't converting visitors into customers because of a confusing user experience, then you don't really have an effective website. It's important to optimize for the buyer's journey to ensure the highest rate of conversion. A well-designed user interface can increase your website's conversion by more than 200%.
Wireframes can save you from falling into the common trap of having a beautiful website but a poor user experience. With wireframes, there's no place to hide. Wireframes challenge you as a business owner to know exactly what you offer, what your clients need, and how to make your value proposition crystal clear.
Customer Benefits from Wireframes
Your customers will never see your wireframes. However, the wireframe will become the skeleton for your final website. When you nail your wireframes, your customers will feel the difference. Interactions will be seamless and intuitive. Great wireframes lead to a great website. And a great website makes your customers feel competent, in control, and positive about your brand.
By spending enough time and energy on your wireframes, you'll be prepared to create a website that preempts customer questions. Not only should your customers be pleased with the appearance of your website, but they should also be satisfied with it as a resource. After all, your website may be the first interaction a customer ever has with your brand. By wireframing strategically, you can create a website that makes your customer feel seen. You only get one shot at first impressions.
To sum up, customers will benefit from wireframes because wireframes are the foundation of seamless online experiences.
Wireframes Make Marketing Easier
Finally, wireframes are not just about figuring out your company's website menu. You should consider the wireframing stage as a critical time to evaluate the needs of your sales and marketing teams with regard to your website. For instance, ask your web developer about HubSpot integrations for sales, marketing, and web development.
A comprehensive strategy at the wireframe stage will result in a stronger marketing capacity. Plus, integrating is a more effective use of your company's resources. HubSpot offers a variety of essential business tools that form a centralized hub for your team. By involving people from your marketing department in the wireframing process, you are ensuring at a foundational level that your team can utilize the website efficiently.
Now that you understand wireframes and the benefits they can bring to your business, join the party! Check out our parent company (Truu Digital's happy customers) for plenty of case studies that demonstrate the power of great web development to grow your business.