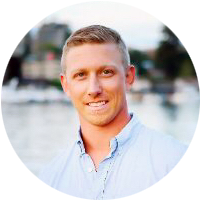 Brandon Baker
8-minute read

Vs
The content management system (CMS) that you pick to help run your website has a massive impact on its performance. That is why you need to think very carefully about this decision and do plenty of research on all the available options in order to learn which one is best suited for particular needs.
Even though there are dozens of different popular CMSs available, there are a few of them that stand apart from the rest. Chances are, if you have considered building a website in the last couple months, then there are two particular CMSs that you're probably familiar with by now: HubSpot CMS and WordPress.
HubSpot is a CMS that is actively used by over 73,400 customers, while WordPress is a blogging platform-turned CMS that has over half of the total CMS market. But this decision is not one that should be made solely based on the number of users.
There is a wide selection of other criteria that need to be considered as well in order to ensure that you are picking the perfect one to fit your specific needs. To help make this decision easier, here is a detailed comparison of the two CMS platforms in a few key areas.
Landing Pages:
Winner 🏆 HubSpot
When someone clicks on an ad, they are likely to be taken to something called a landing page. These are different from the main pages of your website and are specifically designed to convert people who have already expressed some interest in your products or services. This means that they are going to be far more specific and are going to have a big push for the customers to make a purchase or schedule a consultation.
Since every website is going to need some landing pages, it is important that whatever CMS you choose has the ability to make them as efficiently as possible. Here is how the two CMSs stack up against each other when it comes to developing landing pages.
WordPress is very capable of creating interesting landing pages that will do a good job of converting your visitors into paying customers. However, the challenge of using this platform to make landing pages is that doing so often requires a slightly more expensive subscription plan. This is because WordPress provides a ton of plugins that are incredibly useful for creating landing pages, but unfortunately it costs a fair amount of money to gain access to them.
Using HubSpot in order to create landing pages is a much more intuitive process. This is largely because there is a wide range of design tools that are specifically meant for the creation of landing pages. Plus, if you do not know the first thing about creating a successful landing page, HubSpot also provides several design templates that are already set up in a very responsive manner and can very easily be customized using a simple drag and drop method.
In case that isn't enough, there is also the option to effortlessly include information forms on the landing pages, as well as optimize them using a built-in SEO tool and A/B testing feature. So not only are you able to create very capable landing pages but you are also learning what tactics work the best in your specific audience as you go along.

Website Analytics:
Winner 🏆 HubSpot
A website without analytics is not going to be much help because there will be no way to learn what tactics are working and which ones aren't. While every CMS will have some sort of analytics, they are not going to be the exact same level of analytics, which will impact how much you can benefit from them.
WordPress definitely does not lack in analytics and is able to provide you with a wide range of data that you can use to try and improve your website. The problem is that the free or low-cost analytics available are often only sufficient for someone who is doing something for fun or a little extra money on the side rather than as an actual business. This is because a series of plugins are often required in order to get access to the more detailed analytics that will provide you with the insights to start bringing in those views and purchases by the truckload.
HubSpot puts all of its analytics in one central place so that you do not have to spend a lot of time flipping between various screens in order to find what you are looking for. But what is even more useful is the sheer amount of data that HubSpot allows you to view without getting an expensive subscription. For example, you can easily view things like the visit to conversion ratio, competitor tracking, contact timelines, and so much more.
Blog:
Winner 🏆 HubSpot
If someone is in need of a CMS, then it is practically guaranteed that they will be doing some blogging. This is a great way to gather views organically and help to build your site as an SEO powerhouse. That is why you need to make sure that you are using a CMS that makes blogging as easy as possible.
WordPress began as a blogging platform, so it makes sense that it would have this process nearly perfected. Whether you want to optimize your blog post for mobile viewing, schedule a post for a later date, or get AMP support, you can have all of it and more through WordPress. The only unfortunate thing is that there are some helpful blogging tools that are only available if you decide to get more expensive subscriptions.
HubSpot also provides a very capable blogging system that is able to help you create exceptional blog posts. One of the biggest advantages of using HubSpot for blogging is that it is a very user-friendly platform that makes blogging a very intuitive process that does not require dealing with a lot of confusing controls. It also features awesome tools like content collaboration and a CTA creator, among others.
Core CMS:
Winner 🏆 HubSpot
HubSpot was built so marketers don't need to know code, or have deep technical knowledge in order to use it or more importantly be successful on it. HubSpot's platform recognizes that marketers and business owners should be able to create content, a website, and drive demand for their business without the overhead of technical challenges. With one consistent interface, HubSpot gives you a full growth platform to plan, create, and measure content and nurture visitors to turn them into customers.
Wordpress was built as an open source platform that primarily utilizes a programming language called PHP. While Wordpress has evolved significantly, achieving the best results requires customization which traditionally requires a developer familiar with programming. As a result, marketers and small business owners will likely require help to launch campaigns or make changes to their website.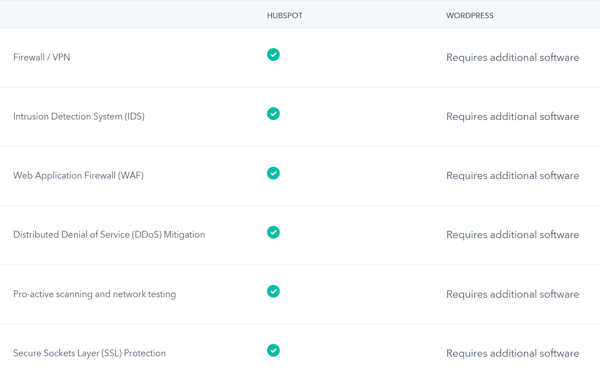 After reading through this guide, you should have a better understanding of which CMS is likely going to be the best choice for you. If you need help creating and managing an awesome website using HubSpot, then make sure to contact our Platinum HubSpot Partner Agency today.