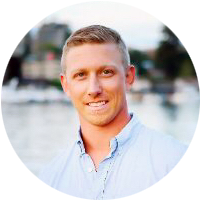 Brandon Baker
7-minute read
Your business expects a lot from your sales team. It is their responsibility to bring in the customers, closing the sale, and delivering upon all the hard work that other departments have done. But it's not easy to be a salesperson if you don't have the right support. Without the essential tools, platforms, and technology, your sales team will flounder—and it won't be their fault.
Here's what a day in the life of your frontline sales team could look like. We'll review the challenges they face and the solutions you can provide to make their job easier. After all, your business would just be a warehouse without customers. That's why it's so critical to give your sales team the support they need to bring in customers, day after day.
Starting the Day by Reviewing Their Goals
No matter what you sell—whether it's software or softballs—your frontline sales team has a target quota. You've probably calculated this figure based on the cost of production and how many items or memberships it would take to cut a profit. When a saleswoman sits down at her desk in the morning, she starts by reviewing her sales goals.
In disorganized businesses, the goal-setting process is vague and inflexible. People might struggle to understand their role in contributing to the company's overall sales goal. They might not even know where to find clear documentation about the sales process and the tools available to them.
On the other hand, smart businesses invest in their sales teams. These businesses ensure that salespeople have access to visual, responsive, and customized sales dashboards. At 9:00 AM, when they sit down to start work, your sales team should quickly and easily be able to grasp their individual goals for the day alongside the tools that can help them achieve those goals. No more wasted time searching for information.
Speaking Directly with Potential Customers
When they're on the phone or a video call, your salespeople are multitasking. They're never just using one device or having one conversation. Why? Because they rely on sales tools to help provide them with the information they need when they need it. This means that they need an easy-to-use dashboard that can be confidently navigated while on the phone with a potential customer.
Your website should be a valuable source of information for your sales team. With a HubSpot integration, your team can achieve an in-depth understanding of potential customer needs. It can observe visitors' use patterns across the company's website, and then it can snag these leads exactly where they clicked away. Now, when they speak directly with potential customers, your sales team will have the information they need to make the sale.
It's also worth mentioning that the customer-facing portion of your website can make the sales team's job easier if done correctly. When potential customers can gain a clear understanding of your product and pricing options on your website, it reduces the amount of explanation and selling that a salesman has to do.
Interrupted for a Team Meeting
Now, it's time to put the sales calls on pause and attend a team meeting. Wouldn't it be nice if your sales pipeline was automated so that you could keep nurturing leads even when you're not at your computer? Sales enablement is a key component of any technical solution. Dedicated sales tools increase productivity, according to 71% of sales managers.
The other challenge your sales team faces is reporting back on their results. When the meeting is called, will they feel stressed out and struggle to slap together a chart that shows their progress? Or will they simply click to generate a report that is up-to-date, individualized, and ready to share?
When salespeople get into the flow, it can be disruptive to pull them out for meetings. With the right website and the right sales tools, managers can get updates on their frontline team's work without having to interrupt their workday.
Closing Out the Day
If your frontline sales staff are well-supported and operating at high capacity, then the end of their workdays should be an easy ordeal. All that's needed is to tie up any loose threads with customer conversations and review their daily and weekly sales goals.
But if your business is struggling with disorganization, then closing out the day could be stressful for your sales team. If you've recently scaled up and are facing challenges with new platforms, then don't feel too bad. This is a common problem that SMEs face, and you're not alone.
The best way to take the temperature of your sales team is to check in with them at the end of the day. This will reveal how supported they feel, or whether you need to invest in a new website with sales integrations to help set them up for success. Do they feel accomplished and successful? Do they feel exhausted and stuck? Honest answers can guide you toward the right solutions.
The Importance of Your Sales Team
If you rely heavily on your sales team to bring in revenue, make sure they have the necessary support to meet your demands. Otherwise, you'll face problems with retention and resentment, not to mention difficulty meeting your sales goals.
Sales is one of the most important—and yet undervalued—jobs in business. It often comes as an afterthought, following the exciting creativity of software developers or product designers. But your company's success depends on the success of your sales team. Thankfully, you can provide them with the tools they need to succeed in the form of a sales integrated website from Truu Digital.
Get in touch with our team of designers and developers to discuss your options for a new company website. The return on investment is obvious: supported sales staff make more sales. Truu Digital can help.