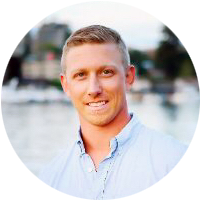 Brandon Baker
7-minute read
Landing pages are a crucial part of web design, especially when it comes to app websites. Without them, you will be unable to properly educate consumers about your app and convert them into customers.
But haphazardly throwing together some very basic imagery and text in order to create a landing page is simply not going to cut it. Instead, you should put your landing page in the hands of a web design professional so that you'll end up with a product that is actually effective.
If you already have a landing page or are about to make one, then you should know what separates a good landing page from a great landing page. And when it comes to app landing pages, these five qualities are an absolute must-have for any truly great one.
Easily Accessible Single CTA Button
The call-to-action (CTA) is the cherry on the landing page sundae. Without it, no landing page is ever really complete. But it isn't enough to put a single button at the bottom of the page that says "download the app". Instead, you need to make sure that the CTA meets a certain set of criteria if you want it to be as effective as possible.
For example, you want it to be as easy for users to take advantage of your CTA. On an app landing page, this often means placing a download button that someone simply needs to click on in order to be brought to an app store page where they can download your app.
You should also avoid offering more than one CTA. As soon as you put more than one type of CTA, the app landing page instantly takes a big hit on its conversion rate. In fact, a page with two or more CTAs will have its conversion rate reduced by as much as 266 percent.
Where you put the CTA button is going to be just as important as well. By placing it below the fold, you will instantly increase your leads by up to 220 percent. So by having a single CTA button that is placed below the fold, you can easily make your app landing page almost five times more effective.
Minimal Text
Depending on what type of app you are offering, you may be tempted to put a bunch of explainer text on your landing page. But you need to fight this initial instinct if you're interested in converting as many visitors as possible.
The reason for this is that you only have a maximum of eight seconds in order to make an impression with an app landing page. With the increasingly shorter attention span of consumers, the last thing you want to do is place a wall of text on your landing page and have the visitor bail before getting past the first or second paragraph.
Try to keep the text down to information that is adding value to the page, rely heavily on bullet points, and make sure to include infographics whenever possible. By doing so, you can help to reduce the amount of text taking over the screen and greatly improve your conversion rate.
Big and Bold Text
Save the small text for the legal documents and footnotes. When it comes to your app landing page, you'll want big and bold text that is very easy to read on any screen size. This is because over half of all web traffic is from mobile devices nowadays. Therefore, you need to make sure that your text is easily read on the much smaller screens of phones.
If the font isn't readable from an arm's length away, then it is not optimized according to UX best practices and will need to be adjusted in order to maximize the effectiveness of your app landing page.
Large Buttons and Links
Having readable text isn't the only way that you should optimize your app landing page for mobile devices. Another key tactic is to strategically design your buttons and links so that they are easy for someone to tap with their thumb without accidentally hitting a different button.
If you have your links placed too close together, then it creates a situation where your mobile users quickly get frustrated by not being able to click on the right one. If this happens more than once, they might just decide to give up on the landing page altogether. So you need to make sure that you are optimizing your buttons and links in a couple of key ways.
For starters, make sure that they are adequately large enough to cover at least 14mm of space on the mobile version of the screen since this is the average size of an adult's finger pad. The other thing that you will want to do is space them out enough that someone won't be able to easily tap a different button than the one that they were aiming for. By following these tips, you will ensure that the amount of frustrated tapping is minimized on your app landing page.
Interactive Chat Integration
If there's a question that a customer has about your app, then you want them to be able to access the answer without having to scour through the entire landing page or search through the in-depth FAQ section.
That's why you might want to include an interactive chat element as part of your app landing page. What this does is help mobile users streamline their interaction with your company by getting exactly what they want from communicating with a virtual assistant.
This landing page will immediately greet a visitor with a chat box that asks the right questions in order to provide the person with the information or services that they want. Based on the responses that they choose from the predetermined list of options, your landing page virtual assistant will guide them to where they can find the answer to their question, where they can learn more about the specific area they're interested in, or download the app for their specific device.
If you make sure to include these elements in your app landing page, then it will start bringing in conversions by the truckload. To get even more tips on proper web design best practices, make sure to follow our blog at Truu Digital.